The holiday period is over and as usual, interesting posts from other people have been piling up in my inbox, or have been glanced at and put to one side for later, more detailed, examination…
(1) Arriving today, via freetech4teachers, is the "Word Tamer" site, a flash based interactive "game" for developing students' abilities to craft a good story.  While it's aimed more at native speakers, I would expect B2 level learners and above to be OK with the language level and it would be quite a nice way of helping teens think about what makes a successful story (possibly for FCE?).  The only criticism I have is that you can't combine the different elements you create while on the site, you'll have to get the students to either make notes on paper, or transfer everything into a separate document.  Check out the site here:  http://www.wordtamer.co.uk/
(2) Academic Language seems to be a hot topic at the moment:  Stephen Krashen's denouncement of "Academic Jibberish" is doing the rounds at the moment:  is there a tendency, he asks, for academics to obfuscate their message in obtuse language in the hope that people will agree with what they can't understand?  This is a post I'm hoping to come back to in more detail later this week, so stay tuned!
(3) Whether "jibberish" or not – learners of English often find academic discourse difficult to access:  two recent posts are here to help with that:  Cheryl Boyd Zimmerman's post on the OUP blog (offering a taste of her upcoming webinar) looks at "Academic Language and School Success" – offering some key considerations.  Todd Finley at Edutopia has "8 Strategies for Teaching Academic Language" – including some nice analysis tasks for learners to work with.
(4) #ELTChat offers up their highlights of the year, in the form of a nice summary by @Ven_VVE.  If you are an educator on twitter – you should check out #ELTChat – a source of much support, inspiration and innovation.  It's always nice to know you're not the only one for whom things go wrong – and to pick up solid advice on how to make things go right!
(5) The new year is typically a time for reflection and looking back at the successes and failures of the previous year – at the end of December Geoff Jordan posted his Aplinglink Awards for 2013:  awards were given in the categories Best Book, Best Contribution to SLA, Best Article, Best Blog, Best Video, Best New Overview, and Best Contributor to ELT Methodology.  Go read his post to find out who the winners and runners up were!
(6) Just as we reflect at this time of year, we also look forwards.  At the iTDi blog, the latest issue "13 for 2014", has Chuck Sandy, Ann Loseva, Josette LeBlanc and Kevin Stein sharing their thoughts on the year gone by and hopes and plans for the future.
(7) Two great offerings from the Digital Play blog that were doing the rounds just before Christmas: Argument Wars and Vortex Point 2.  Argument Wars is a game based on landmark civil rights cases from the USA – the learners have to find the best arguments and find logical connections to craft supporting points, in order to win their case.  Excellent for advanced (CAE) level groups.  Vortex Point 2 is a hunt and click flash game where you have to find things and do things in the right order to solve a mystery.  Lesson plans for both these games are available via the links.  Thanks to my colleague Neil for telling me about these in the first place!
(8) The teacher as researcher is, or can be, a contentious issue; with questions as to the validity, reliability and wider applicability of such studies.  Marisa Constantinides' latest post asks the question "Can Teachers do Research?", looks at how they can do the research, what the lessons of such research can be and who should be learning them…  (A must read article, by the way, for anyone doing their DELTA or an MA…)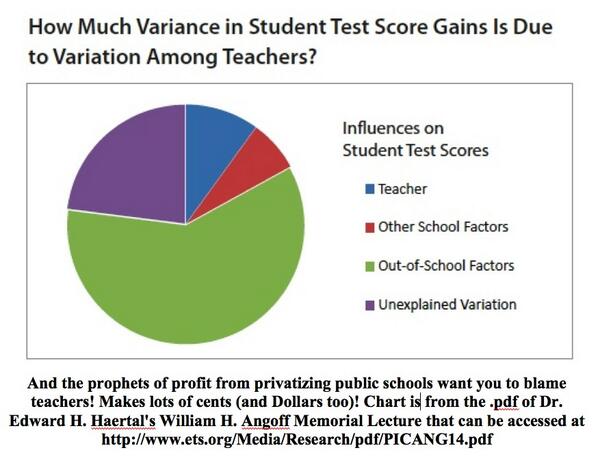 (9) How much of a students' test score is down to the teacher?  (Or in other words, can you assess the worth of a teacher based on the performance of the student?) – Apparently, about 15% or so.  Larry Ferlazzo shared the graphic on the right, taken from an ETS sponsored lecture by Dr. Edward H. Haertal.  ETS are the providers of the TOEFL exam series, and while the lecture (downloadable in pdf via Larry's post) makes it quite clear that the research relates to an investigation of a specific teacher assessment measure used in US education – it raises yet more interesting questions to throw into the testing debate.
(10) And finally…  and more because I think it's just a fantastic illustration of an incredibly complex issue, but an image I think should be on every staffroom wall from the always excellent and amusing xkcd.com – a cartoon about ADD: